PC to Mobile Bulk SMS Software for Multi Mobile
Product Description :
PC to Mobile Bulk SMS Software for Multi Mobile uses advanced bulk SMS technology for sending group text messages from your GSM mobile phone. Mobile messaging program allow you to connect number of GSM mobile phones with your PC to send thousands of text SMS instantly.
Compose and send unlimited text messages across the world.
No internet connection is required to deliver text messages.
Promote your business brands or services and increase business productivity.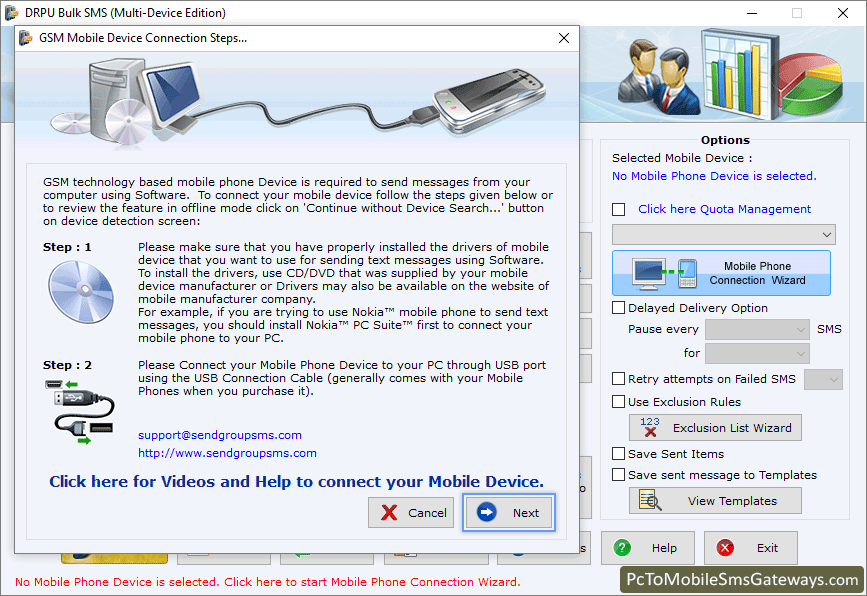 Why bulk SMS software is so useful
Increase your business sales and revenue and enhance customer interaction.
Send unlimited text messages in different languages.
Provide facility to connect multiple GSM technology based cell phones with your PC.
Send SMS to individuals or list of phone numbers.
Offers cost effective way to send bulk text SMS to your global mobile audiences.
Working Features :
Guaranteed delivery of your sent text messages in less time : Business marketing software is useful mobile messaging apps that successfully deliver text messages like notification, product launching details, invitation, job alert, price alert, event alert etc to select list of contact numbers within minimal time.
Import mobile contacts from PC : GSM mobile messaging program provides an advanced option that import multiple contact numbers from your PC to send bulk text SMS to your global mobile audience.
Stay in touch with your friends, business partners and relatives : SMS broadcasting software provide most convenient and easiest way to communicate with your global customers at any time.
Save sent SMS to templates : PC to mobile SMS gateways program is useful business app that empowers you to save sent text messages to templates for future references.
Beneficial for sending : Personalized SMS, Share market information, News alerts, Job alerts, Event notifications, Greetings, Product promotion campaign and many more.